What we are trying to do?
We support young people from Feltham to make well-informed decisions about their post-16 options, to enable them to enjoy a life of choice and opportunity beyond school. We believe every 16-21 year old living in Feltham has a right to access quality education, employment or training. 
Image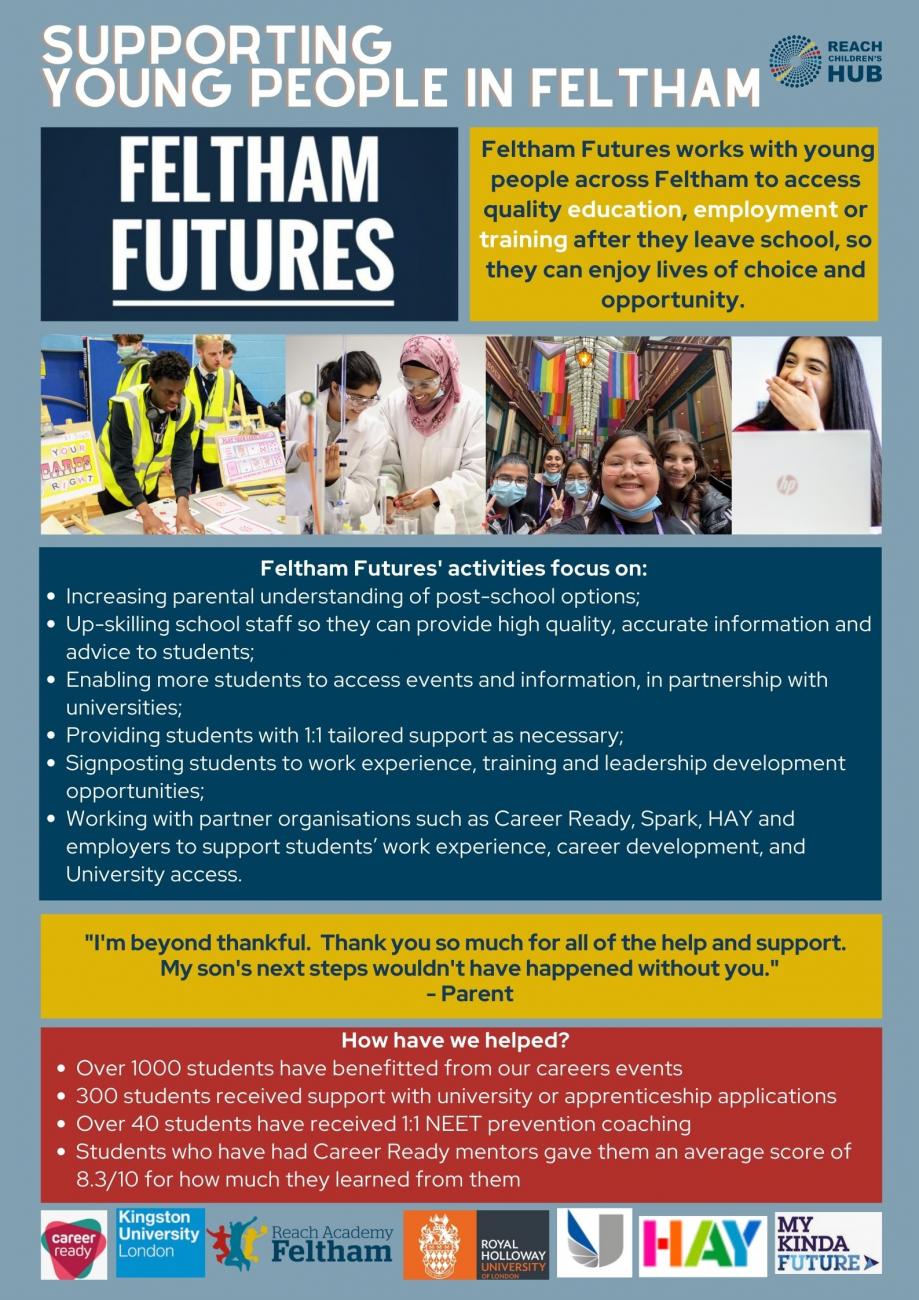 How we are doing this?
Our work is focused on: 
Increasing parental understanding of post-school options

Upskilling staff so they can provide high quality, accurate information and advice to students

Creating an Operational Group of careers leads across Feltham schools to enable more students to access events and information, in partnership with

Royal Holloway University of London

Providing students with 1:1 tailored support as necessary

Signposting students to work experience, training and leadership development opportunities 

Working with partner organisations such as

Career Ready

,

Spark

and

OxFizz

to support students' work experience, career development, and University access.
The difference we make:
Over 1000 local students have benefitted from our careers events

Over 300 local students have received support to develop their university or apprenticeship applications

Over 20 students have received 1:1 NEET prevention coaching

Over 60 students from two local schools have undertaken paid work placements

Over 30 local students have received intensive support for their competitive university course applications

Over 20 students from two schools attended our pilot Pre-University Preparation Weekend

Of those who attended the 'Bright Futures Ahead' Community Careers event, 84% found it useful in deciding what to do with their future, and 72% discovered a new career they had never considered before

Students who have had Career Ready mentors gave them an average score of 8.3/10 for how much they learned from them